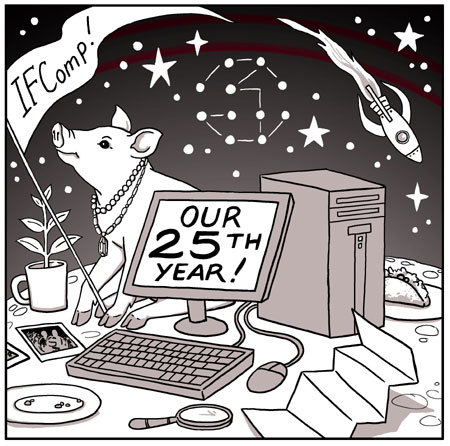 The 25th Annual Interactive Fiction Competition has ended. Steph Cherrywell joins the rare company of two-time IFComp first-placers with the boozy comedy Zozzled, and of course the other eighty-one(!) entrants all brought something new to the world of interactive fiction as well. Please do browse the whole list; while games' IFDB entries get settled you can download them from the IF Archive, or (for many games) play them from the ballot page, which we're keeping around through year's end.
And if you'd like something else to commemorate twenty-five years of IFComp, may we suggest something from our gift shop? Maia Kobabe, who drew the amazing artwork for the IF Archive's own 25th anniversary a couple of years ago, returned to create a new design filled with signifiers of past competition winners. You can get the design for yourself on mugs, stickers, and other stuff. Proceeds from all purchases goes to IFTF, which powers IFComp and lots of other IF-related public services.
Thanks as always to the whole interactive fiction community for another outstanding IFComp year.